Some signs of recovery in Haiti
Submitted by: admin

01 / 26 / 2010
---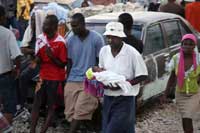 Nearly two weeks after the quake that devastated large part of the capital and other Haitian localities, Port au Prince is beginning to show some signs of recovery, but the reconstruction task will certainly take long.
 
Though tons of rubbles are still to be collected, excavators began their work very early today, clearing some of the many obstructed routes.

About 150 unarmed soldiers from the Venezuelan Armed Forces will join those tasks, bringing heavy equipment to make a little contribution.

People trying to recover some construction materials useful to build a new house also take part in the operations.

Gas stations have reopened, so long lines seen in previous days are disappearing.
Banks and lending houses have opened as well, some of them guarded by forces of the UN Stabilization Mission in Haiti and soldiers of the US Armed Forces.

Money becomes scarce, and those with bank accounts have been forced to use them, so there many people trying to get credits.  
Lines in front of financial businesses are long indeed.

Garbage collection is increasing, mainly in the surroundings of parks and plazas turned into camps. In those settlements, there is no TV, but some radio news on national events can be heard.

On Sunday, the churches that did no collapse welcomed parishioners. There were masses, prayers for late friends and relatives, and others for the earth to stop shaking, and for prosperity in the country.

Haitian Culture and Communication Minister Marie-Laurence Jocelyn Lassegue informed that only in the capital, 150,000 bodies have been reported, but the number of those still among the rubble remains unknown.

Some authorities consider the death toll could reach 200,000.

Source: PL

---
Related News
---