Leaked documents reveal espionage of Cuba at International Miami Airport
Submitted by: admin

06 / 03 / 2019
---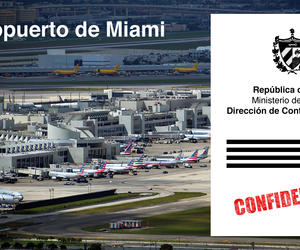 ---
Cuba's intelligence services have managed to appropriate confidential information on internal operations, airline operating records and access to restricted areas at the Miami International Airport (MIA), according to classified documents of the Ministry of the Interior (MININT) that obtained CiberCuba
The intelligence documentation on the MIA is part of a batch of classified files transferred by an anonymous source to CiberCuba with hundreds of pages and multimedia files, bank transfers, contracts, emails and private information of persons of interest to the Cuban government, in what constitutes one of the biggest leaks of the secret files of the MININT in all its history.
At least six letterhead documents from the MININT Counterintelligence Directorate, dated between 2015 and 2017, contain sensitive information that was sent to Havana by agents of the Cuban regime in compliance with espionage missions and data collection.
Each of the pages related to the MIA is headed under the label of Program Collector, and appears with a stamp of Confidential in capital letters and numbering stamped at the bottom.
This report belongs to the special series #CiberCubaleaks: a filtering of confidential documents of the State Security of Cuba.
The revelations highlight the interest of Cuban intelligence on a strategic installation in North American territory, the main gateway between the United States and Latin America, and the economic engine of South Florida, with annual revenues of more than $ 33 billion dollars.
---
Related News
---