ALBA prepares recovery program for Haiti
Submitted by: admin

01 / 25 / 2010
---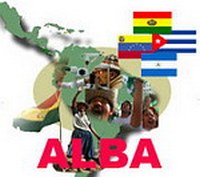 Foreign Ministers of the Bolivarian Alternative for the People of Our America (ALBA) analyzed in Caracas, Venezuela, the best ways to increase the group's humanitarian aid in Haiti.
  At a meeting with President Hugo Chavez, Venezuelan Foreign Minister Nicolas Maduro said the ALBA high ranking officials, including Prime Minister of Dominique Roosevelt Skerrit assessed over the weekend an aid and recovery project for Haiti.
Maduro said ALBA will prepare a strategic mid and long term plan for the reconstruction of Haiti that includes hospitals, water plants, agriculture, production of food and fishing.
For his part, Chavez pointed out that now cooperation of the group is based on providing medical aid to save lives affected by the seven degree quake and that ALBA proposes a cooperation that also includes education and on other spheres.
Chavez also denounced that Venezuela's aid is stalled because Venezuelan ships cannot dock in the few available ports in Haiti "because they are in the hands of the Yanks."
The Venezuelan president criticized the US military presence in Haiti as an attempt to really mask an occupation by the US government by announcing the deployment of a hospital ship.
He pointed out that US doctors don't move about the wreckage and poor barrios like the Cubans and Venezuelans and are there in their ship waiting for patients.
Chavez indicated that the meeting of the ALBA Political Council in Caracas will look into other subjects, particularly "the Bolivarian counterattack" against right wing actions on progressive movements in the region."
ALBA is made up of Antigua and Barbuda, Bolivia, Cuba, Dominica, Ecuador, Honduras, Saint Vincent and the Grenadines, Nicaragua and Venezuela.  
Source: Cubasí
---
Related News
---