Cuba leads Solidarity and Humanism Wordlwide
Submitted by: admin

12 / 10 / 2009
---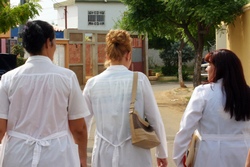 Ecuador's president Rafael Correa said Cuba was a world champion of solidarity and humanism in the farewell ceremony to the Cuban doctors that finished in that
country the first stage of a psycho social-genetic study named Manuel Espejo Mission.       
Upon arriving in Havana on Tuesday evening, Mercedes Gamez, general coordinator of the Cuban team on the mission, told the press about Correa's statements.  
Gamez said that in the eight provinces included on the first stage of the project more than 78,000 cases of study were detected in a about 380,000 homes visited.  
Gamez, Dean of the Medical Faculty of the Victoria de Girón University, said the most important part is the follow-up stage of study and implementation of the solutions.
On her part, Marcia Cobas, deputy health minister, said the work carried out by the Cuban team was excellent. She noted how the doctors were able to sort out difficult situations, including the absence of roads in many distant places.
"You bear the human values that Fidel and Raul have taught to the Cuban people along 50 years of Revolution and international cooperation," Cobas said.
Vladimir Matos, one of the 192 members of the brigade, highlighted the human character of the mission. He said its main goal is "to bring to light those people who have been condemned to live in the dark by previous governments."
The Manuela Espejo mission started nine years ago by experts from Cuban and Ecuador, who are leading a comprehensive study of disabled people in that country.
Source: ACN
---
Related News
---