Evo Morales Recognizes Work of Cuban Doctors in Bolivia
Submitted by: admin

03 / 10 / 2009
---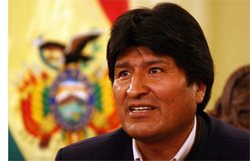 Morales recognized also the work by the country's Armed Forces and National Police in the effort to stop the epidemic.
The head of state headed a popular campaign to fight dengue in the department of Beni, where he called on all citizens to give priority to the eradication of the Aedes Aegypti mosquito, Prensa Latina reported.
Morales said the coordination between the government, prefecture and municipalities has been very positive, as well as the response of the people. However, he asked the people of Trinidad and Beni in general to more aggressive in the fight against the mosquito, which is the agent responsible for the epidemic of 39,000 cases reported and some 20 deaths.
The Bolivian president regretted the lack of hygiene in some homes, while other families refused to fumigate. He announced that the cleansing work and the mosquito eradication campaign will continue in Beni until next Wednesday.
The dengue epidemic, helped by high temperatures and the rainy season, has spread throughout the departments of Beni, Santa Cruz, Cochabamba, Pando, Tarija, Chuquisaca and the north of La Paz.
(ACN)
---
Related News
---