Cuba announces long-term plan against severe drought
Submitted by: Juana

12 / 24 / 2015
---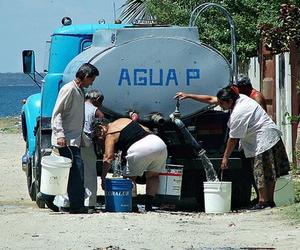 ---
The Cuban Council of Ministers announced a long-term plan from 2017 to 2020 to cushion the impact of the severe drought affecting the country through the implementation of new and crucial projects.
According to the announcement the works include the drilling of new water wells for agriculture, new dams and water canals, watering systems and networks; all as part of a large number of measures.
The president of the Cuban Water Resources Institute, Ines Maria Chapman said that some 30 dams currently underused will be rehabilitated while actions will be taken to reduce leaks along the water supply networks that reach the residential areas.
Other investment will benefit water treatment plants to use sea water for renewable energy. The plan also includes the use of deep underground water according to several research studies conducted in some eastern areas of the country.
The severe drought affecting Cuba has had a noticeable impact on the economy, the environment and society.
source: www.cibercuba.com
---
Related News
---