Cuban doctors arrive to the favelas of Brazil
Submitted by: Juana

08 / 26 / 2015
---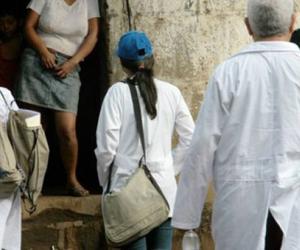 ---
"I can assure that the experience of the Cuban doctors in Brazil is a success that the Brazilian people will thank their entire life," said Joaquin Molina, representative of the World and Pan American Health organizations in Brazil about the work of the Medical Brigade of Cuba, as part of More Doctors, ensuring health care to 63 million people.
The first 400 Cuban doctors arrived in the South American giant in August 2013; in October of the same year came two thousand employees, and in November they three thousand more. Subsequently, in January 2014 arrived in Brazilian soil over two thousand employees, and in March the current figure of 11 thousand 400 Cuban doctors in Brazil was completed, said Dr. Cristina Luna, in charge of the Mission Program More Doctors.
Cubans have had to overcome language barriers, learn a different system of health, and sometimes even move in boats from the early hours of the morning, to care about the health of those in need wherever they may be.
In the favelas, indigenous districts and in the most vulnerable places, with populations under high risk with infectious diseases like tuberculosis and leprosy, places never visited by a doctor before, even there the Cuban doctors have arrived.
source: www.cibercuba.com


---
Related News
---