Healing body and heart, the Cuban style
Submitted by: admin

04 / 02 / 2010
---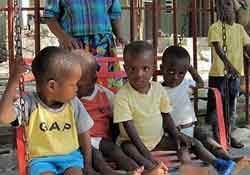 The governments of Cuba, Brazil, and Haiti signed a trilateral accord on March 27 to rebuild the public health system in Haiti.

Brazil committed $US80 million toward the effort and pledged to create a national epidemiologic surveillance network.
The Cuban contribution includes more than 1,600 doctors, a couple of hundred of whom were already in Haiti when the earthquake hit and who acted as first responders. Most of the medical delegation came shortly after the earthquake, to provide top-quality health care for two years.

Since 1999, a several-hundred-strong team of Cuban-trained and Cuban-sponsored doctors (with individual members rotating in and out) have staffed city hospitals and rural clinics throughout Haiti.

Without charge to patient or government, they have focused their attention primarily in remote areas, offering general medical care to many who have never before received it and who otherwise may have died.

The doctors also provide eye surgery, and have served as first responders after hurricanes.

The team that arrived since the January 12 earthquake is part of the Henry Reeve Cuban Medical Brigade, a post-disaster operation formed to offer assistance to survivors of Hurricane Katrina.

The U.S. government refused their help, but the team has since gone to Pakistan after a major earthquake, Indonesia after the tsunami, and a half-dozen or so other places that have suffered major catastrophes. In February, part of the brigade was dispatched to Chile after an earthquake hit there.

The doctors are committed to health care that is free and accessible to everyone, and that is rooted in dignity and respect. One of them, Dr. Wilsos Canton, said that they "don't consider health care a business, but a right."

The doctors come from 25 countries in Africa, the Middle East and Asia, and the Americas, including Haiti. They were all trained at the Cuban-run Latin American Medical School (ELAM), which has a branch in Venezuela.

Their travel to Haiti and all their expenses are covered by the Cuban government.
They receive a small stipend for such daily expenses as a soda or snack, but otherwise are 100% volunteer. Regardless of country of origin, they are known throughout Haiti as the 'Cuban doctors.'

ELAM has also trained, at no charge, 556 Haitian doctors in past years. As a condition for the education, the new doctors must return to work in Haiti.

The young physicians of the Henry Reeve Brigade are working in three hospital sites around the capitol, four community health posts, and hospitals in other towns and rural areas.

In Carrefour and Croix-des-Bouquets, they have created field hospitals,where they provide 24-hour services with specialty care in pediatrics, surgery, intensive care, internal medicine, and gynecology. Teams of doctors also travel with backpacks full of supplies into displaced people's camps to treat those that cannot or do not come to them.

Moreover, five teams, working six days a week, have vaccinated more than 70,000 people against dyptheria, tetanus, whooping cough, mumps, and measles.

At 9:00 on a recent morning, after a bus ride through the city's traffic-clogged streets, five of the 'Cuban doctors' hiked up the rocky street with large backpacks full of supplies and medicines.

Arriving at their post in the Carrefour Feuilles neighborhood, they opened the sides of the tent that is permanently stationed there and hung a Cuban flag from it.

They unpacked the medicines and arranged a couple of small wooden tables and some metal folding chairs, creating three care stations and a pharmacy.

On another recent morning, the Martha Machado Artists' Brigade was outside the Hospital de Renaissance, while inside, members of the Henry Reeve Brigade were treating patients. In the streets, clowns and magicians had the audience laughing, a rare sight in Port-au-Prince these days.

Next up was a group of Cubans of Haitian descent who sang in Creole. They pulled children up from the audience and in minutes all were dancing.

One young girl watched from her wheelchair on the sidelines, her face expressionless. One of her legs was amputated and the other was heavily bandaged. Spotting her, a woman in the troupe danced over to roll her into the middle of the group. A small circle formed around her, dancing and singing.

In the grand finale of the performance, stilt-walkers waved Cuban and Haitian flags chanting "Cuba! Haiti! Cuba! Haiti!" while the trumpets and drums moved the crowd in rhythm. Children snaked through the crowd in the Conga line.

At the ceremony to inaugurate the new trilateral accord, Cuban Health Minister Dr José Ramón Balaguer said, "What would the world look like if all men and women lent their skills and solidarity like those of Henry Reeve? It would be a world full of peace, of love - a different world."

Many thanks to Conner Gorry of MEDICC for her help with research.

Beverly Bell has worked with Haitian social movements for over 30 years. She is also author of the book Walking on Fire: Haitian Women's Stories of Survival and Resistance.
She coordinates Other Worlds, www.otherworldsarepossible.org, which promotes social and economic alternatives. She is also associate fellow of the Institute for Policy Studies.

Source: www.huffingtonpost.com

---
Related News
---