SELA Members Urges End of Blockade on Cuba
Submitted by: admin

03 / 28 / 2010
---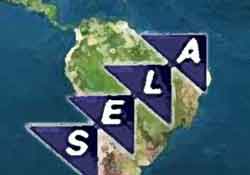 The 27 member countries of the Latin American Economic System (SELA) ratified this week in Venezuela the need to end the economic, trade and financial blockade that the United States has imposed on Cuba for almost 50 years.
  The demand of ending the unilateral measure, announced in February 1962 by John F. Kennedy and maintained by the following administrations, was part of the conclusions of a regional seminar on trade relations with the United States during the first year of Barrack Obama's administration.
Leaders and representatives of the bloc, founded in 1975, expressed its stance in this capital about the sanction that according to conservative estimates, has caused losses to the Cuban government estimated at over $96 billion.
SELA Permanent Secretary Jose Rivera stated that lifting the blockade is an indispensable requirement to guarantee comprehensive links with Washington.
The Bolivian accusation about the politicization, conditioning and imposition that the US government has practiced in the bilateral economic ties was also analyzed in the regional event.
In 2009, the White House excluded La Paz from the tariff benefits of the ATPDEA trade preference system.
By Ileana Ferrer Fonte   
Source: PL
---
Related News
---