Nautical Club in Baracoa City, Guantanamo province
Submitted by: admin

03 / 27 / 2010
---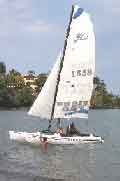 The boat leads to La Punta Fort, at the starboard between the clouds is El Yunque, mountain that evocates the vision of the great admiral Christopher Columbus: "A mountain that looks like an island".
Rumbos makes the offer and invites all the population that accepts with delight. A crowd goes every weekend to the west of Baracoa Bay, very near Saint Port, a tourist village that gains renown in the world and multiplies its member of clients.
The promoters assure that since April 2003, when the Nautical Club was inaugurated, every weekend journey gathers more than 3 hundred Baracoa people and tourists that come in couples, small groups or family and spend a great time together.
Sailing in boat from the coast of the Prime Village till Honey River is one of the best offers. It is a trip of two kilometres around the littoral, in which you can see the oldest Cuban city from a different perspective; you view the ancient village in a virgin nature with great forests and beautiful geographical accidents as Terrazas de Yara, place of great archaeological interest.
Rumbos options include bicycles and aquatic motors, as well as kayaks equipments that give the possibility of travelling through El Toa to the impressive fall Julian, four kilometres away.
The efficient gastronomy is an option too: beverages, ice creams and comfitures, as it is the invitation to walk a surrounding of hundred promises of flora, fauna, lovely landscape and comfortable places like Maguana beach and the indescribable Yumuri river canyon.
 By: Ariel Soler C.
 Source:www.venceremos.co.cu/
---
Related News
---