Cuba Calls upon US in Geneva
Submitted by: admin

03 / 20 / 2010
---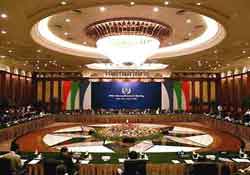 Cuba once again called upon the United States before the Dispute Settlement Body of the World Trade Organization Friday for not fufilling recommendations, criticism to which another 11 delegations joined.
The issue related to the 211th Section of the US Law of Budget Assignments, in force since 1998, was analyzed and criticized by representatives of the European Union.
Missappropriation of titles, brands and other items, was the main topic on which the US representatives repeated consistently in their 88th Report to WTO that they are working to fulfill the DSO recommendations, together with the government.
Argentina, Brazil, Costa Rica, Ecuador, Mexico, India and other countries spoke on the problem and were strongly critical.
Cuban representative Rodolfo Reyes stressed that the USA and the EU "by irresponsibility and despise of the system the former and conspiratorial passiveness the latter" undermine the bases of the system for dispute settlements, one of the key results of the Uruguay Round.
Reyes insisted that the 211th Section is an extensión of the failed US politics of blockade against Cuba, aimed at snatching from it trademarks that are duely protected in US territory.
With regard to that, the Cuban diplomat underlined that in February, in Mexico, the Latin American and Caribbean representatives approved a declaration on the need to put an end to the economic, commercial and financial blockade the USA has been applying on Cuba.
Source: PL
---
Related News
---