Orquideario de Soroa to be copied in New York
Submitted by: admin

03 / 14 / 2010
---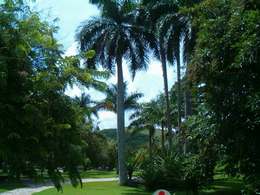 A copy of the Orquideario de Soroa and of some of the most famous places in Cuba may be seen these days in the Bronx Botanic Garden, in New York, says today's edition of The New York Daily News.
The exhibition Cuba in Flower, organized by the Cuban-American landscape architect Jorge Sanchez, reproduces a "tropical explosion in the Bronx with thousands of orchids and exuberant vegetation."
"As it happened I had been a year and a half earlier travelling around Cuba," said Sanchez, 61 years old, who is the president of the Sanchez & Maddux firm, in Palm Beach, Florida: "and so was how the idea occurred to me of centering this exhibition on Cuba."
The heat of the glass of the closed garden-greenhouse, together with non-stop Cuban music, fills the space and it immediately translates the visitors to a world they have never been able to see, says the Daily News.
The trip starts with a copy if the famous statue from the 17th century, la Giraldilla, placed on top of some sort of colonial bell tower, created to recall the original that was found on the Castillo de la Real Fuerza in Old Havana.
The exhibition moves then to the main gallery, with a vibrating color and filled with concentration thanks to the orchids planted among the ruins of a sugar watermill and the palm trunks. The gallery closes on the visitor after a light festival under a glass cupula standing ninety feet.
At the end, there is a garden surrounded by orchids inspired in the Orquideario de Soroa, botanic garden from the Sierra del Rosario, a mountain range from Cuba described by Sanchez such as "the perfection of nature."
"What I wanted to do was to take people to Havana, an important historic place... and from there through the countryside... and to reach the mountains from Pinar del Río and the Orquideario de Soroa.
Ironically, there are no native Cuban orchids in the exhibition. Those that are in the collection from the Cuban Botanic Garden do not flower this time of the year, said the exhibition director from the Botanic Garden, Karen Daubmann, and "there is nowhere to buy them in the United States," added Sanchez.
Source: Cubadebate and Cubarte
---
Related News
---