Relatives of Terry Fox to Visit Cuba
Submitted by: admin

03 / 10 / 2010
---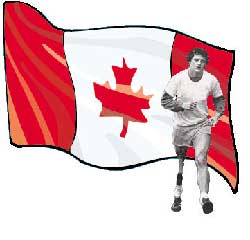 Relatives of Canadian Terry Fox will visit Cuba for the first time to participate at the XII Marathon that bears his name to be held next March 20 all over the country.     
Betty and Rolly Fox (the parents) along Terry's sister Judith Fox-Alder, president of the Terry Fox Foundation, will arrive in Havana on the 17th and will stay through the 24th, according an announcement made by the Organizing Committee at the International Press Center this Tuesday.
The Canadian Ambassador to Cuba, Jean-Pierre Juneau, told ACN news agency that Terry's example lives in the hearts of all Cubans, an asseveration based on the ever growing number of nationals participating in this event.
Meanwhile, Carlos Gattorno, general director of the Marabana-Maracuba Project, said that the marathon will not be a competitive event, therefore there will not be any awards and that everybody is invited to attend whether they are sick or not, running, walking or in wheelchairs, skate rollers or bicycles.
The minimum distance to be run is one meter, and the maximum three kilometers, said Gattorno.
Terry Fox was a young Canadian who suffered the amputation of his right leg, at 18 years of age, and with prosthesis he ran 42 kilometers a day for 143 consecutive days in 1980 and died 10 months later because of the ailment.
The Terry Fox or of Hope Marathon is run in Cuba since 1998 and its funds are to cover the investigation of breast and cervical cancers, those affecting Cuban and the world's females the most.
Source: ACN
---
Related News
---