Visitors to Cuba can bring back samples of island arts from Havana galleries
Submitted by: admin

03 / 09 / 2010
---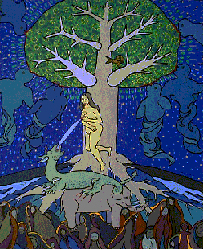 If you venture into Old Havana, you can't miss the many art galleries among the elegant arches and columns of the restored colonial streets. And, if you're lucky, you may just come upon some of Cuba's top artists at work there, or at least minding the shop.

Given their often reasonable cost and ease of transport, I'm always on the lookout for prints in Havana. Just roll them up and pop them in a poster tube you've brought from home.

Now more than ever might be the time to buy Cuban art: the United States has been talking about lifting a ban that prohibits all but a few Americans from visiting the island and, if it does, prices will no doubt rise considerably.

A good place to start the hunt for prints is the "Taller Experimental de Gráfica" (Experimental Print Workshop) in the Cathedral Plaza. It goes by the acronym TEG and began in 1962.

It boasts a wide selection of prints, mostly by younger artists, many of whom can be found working on their lithographs over stone matrixes in the large, airy building.
They will do their best to converse with visitors in English. The variety of colours, sizes, and content of the prints is wide, including pieces with recognizable Cuban icons, bold black and white woodcuts and whimsical colographies. TEG is open Monday to Friday, 10 a.m.-4 p.m.

Ottawa resident Shane Rhodes, who visited for the first time in December, left a contented customer.

"The work on display is impressive both for its formal acuity but also for the broad range of artistic adventures - from experimental, one of a kind abstracts, to more traditional lithographs - you can explore," Rhodes said.

Angel Ramirez, a master printer who also paints and creates mixed-media works, has collaborated with the TEG for over 30 years and describes it as an important meeting point for printers representing a wide variety of styles and formats.

Ramirez' own gallery is not as obvious, as it boasts no street sign. At No. 6 Obispo Street, just off the Plaza de Armas, take the staircase up to the second floor and you'll discover his "Taller de la Sexta Puerta" (Workshop of the Sixth Door), where RamDirez style often evokes the middle ages - a bearded king and sombre colours are frequent features.
It's particularly interesting to see how his style fuses with a number of other top artists he paired with in his unique series "Dando y Dando" (Giving and Giving).

The gallery is open Monday to Friday, 10 a.m.-6 p.m., but call to confirm 860-6866). Pedro Pablo Oliva, Zaida del Rios, Ernesto Rancaño and Roberto Fabelo are the other big names with private galleries on the second and third floors, but none have signs outside.

Art has been a priority since the early days of the revolution, when Fidel Castro's government recognized its importance in the forging of a new Cuban identity. The first generations of art students were trained with classical Soviet methods but, since the 1980s, there has been an increased expression of "Cubaness" among artists.

Among the post-Soviet graduates is acclaimed printer-painter Ibrahim Miranda, who spoke recently at Carleton University Art Gallery in Ottawa. He described a varied art scene in Cuba where artists also vie for shows and markets on the world stage.

"There is an artistic elite in Cuba that was trained in the 80s and 90s. These are artists who work with international galleries; who participate in the most important bienals in the world, and who are undertaking some of the most incredible projects you could imagine," Miranda said.

Mirandas pieces, which can be found around the world including New York's Museum of Modern Art, depict afro-Cuban themes, ponder Cuba's insularity, and often include maps. He encourages visitors to come to his studio in Havana's Vedado district after 2 p.m. It's located at LDinea 810, between 2nd and 4th streets, apt. 9, Interior. Call first to make sure he'll be there (05 258-6742).

For a broader range of art there is the "Museo de Bellas Artes" (Fine Arts Museum), which contains a vast collection by printmakers, painters and other Cuban artists.
The national gallery showcases have much of the very best of Cuban art from the 16th century to the present. Visit the gallery Tuesday through Saturday, from 10 a.m.-6 p.m., and Sun. 10 a.m.-2 p.m., C$6.

Finally, exit permits are usually required to take art out of Cuba but galleries should provide these at no extra cost. You are sure to be asked for a permit if carrying a poster tube onto the plane.

If you go . . .

-If you're staying in Varadero, the busline Viazul has several buses to and from Varadero and Havana daily for C$12.

Reservations in the comfortable coaches can be made ahead of time at the bus station (www.viazul.cu).

Other galleries featuring Cuban art:

-Acacia, on the south side of the Havana Theatre, Centro Havana

-Centro de Desarrollo de las Artes Visuales, 352 San Ignacio, Plaza Vieja, Old Havana

-Factoria Habana, opened IN DEC. at 308 O'Reilly, Old Havana

-Habana, Linea 460 between E and F, Vedado

-23 y 12, at the corner of 23 and 12 streets, Vedado

-Villa Manuela, gallery of the National Union of Writers and Artists, H St. between 17 and 19, Vedado

-There are also several galleries on Obispo and Oficios streets offering a wide range of quality, prices and style.

Source: The Canadian Press
---
Related News
---