Anti-polio Campaign underway
Submitted by: admin

03 / 06 / 2010
---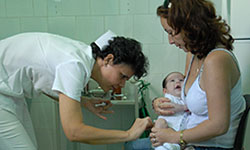 Two-month old Angelica Maria will receive in this city the first dose of the anti-polio vaccine, which will benefit over half a million Cuban children during the 49th immunization campaign.     
The dose consists in two drops to be taken orally, and will be administered at doctor's offices and in various posts fit out with this purpose, where mothers can take their children between 30 days and two years, 11 months and 29 days old.
 Angelica's mother, Anelis Labrada, told ACN that she has already received the visit of the nurse from the doctor's office in her neighborhood, who explained that children with high fever, vomit or diarrhea will not be able to be immunized and that in this case they should wait until the following week for their vaccination.
 In addition, I know I shouldn't give water to my baby half an hour before and after receiving the vaccine, since it's inactivated by the chloride contained in running water, emphasized the young mother.
 The same thing will happen to immunodepressed children, like, for example, those suffering from leukemia or lymphomas, and to those who're allergic to any of its components.
 Recently, Joaquin Roberto Hing, head of the vaccination campaign in western Santiago de Cuba province, specified that some 39,300 children will be immunized in the territory with vaccines coming in 20-dose bottles, which should be kept at a temperature between two to eight degrees.  
He said that the first stage will last until March 11, and that the second stage will take place on April 23-29 to administer a second dose to those immunized in the first one: he added that the reactivation of the vaccine for the 9-year olds will also be made.  
The anti-polio campaign is carried out annually in Cuba since 1962.  This and other campaigns has made it possible to eliminate preventable diseases on the island, like polio, diphtheria, measles, rubella and whooping cough.
 Also wiped out have been neonatal tetanus, the congenital rubella syndrome and the post- mumps meningoencephalitis.
Source: ACN
---
Related News
---