Cuba Presents Film on Haiti in Geneva
Submitted by: admin

03 / 05 / 2010
---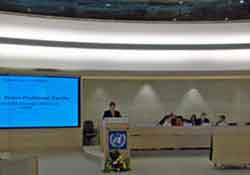 A documentary film about the medical assistance of Cuba and other Latin American countries to Haiti that is a testimony of solidarity with that Caribbean nation devastated by a quake last January was welcomed today in Geneva with a standing ovation.
  Cuban Minister of Foreign Affairs Bruno Rodriguez made the introduction to the documentary at Room 22 of the Palais des Nations in Geneva with the presence of many ambassadors, diplomats and NGOs representatives.
Rodriguez conveyed his deepest condolences to the people of Chile, which is suffering the consequences of a quake. He also said that his country sent health aid to that South American nation.
He remembered that when the quake stroke Haiti last January 12, Cuba already had a medical brigade there, which was increased substantially and at present there are 1.600 health specialists providing care to the Haitian people.
The minister explained that some of them are graduated from the Latin American School of Medicine (ELAM) in Havana and that they are working in multipurpose hospitals while another health facilities 30 are being installed with Venezuelan cooperation.
The Cuban FM pointed out that apart the assistance provided by Cuba and the ALBA member states, Norway and Namibia have also contributed valuable aid to the Haitian people.
In the documentary, ELAM graduates from Chile, Mexico, Bolivia, Haiti, Guatemala, Colombia and the USA praised the idea of joining the "Henry Reeve" contingent to assist the Haitian people.
They coincided in highlighting Cuban leader Fidel Castro's words that they would be an Army of White Gowns of genuine international solidarity.
The Haitian and Cuban ambassadors to Geneva Jean Claude Pierre and Rodolfo Reyes respectively, extolled that the Latin American medical cooperation is an example to the world and constitutes a real expression of human rights.
Source: Cubasi.com
---
Related News
---