Cuba and Brazil Signed Collaboration Agreements
Submitted by: admin

02 / 25 / 2010
---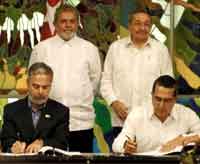 Cuban President Raul Castro and his Brazilian counterpart Luis Inacio Lula da Silva presided over the signing ceremony of 10 juridical instruments for collaboration between both nations, in Havana last Wednesday.
 The Revolution Palace was the scenario for signing of a memorandum of understanding for collaboration in the sectors of computer sciences and communications and of a protocol of complementation in the health field.
Complementary agreements for scientific, technical and technological cooperation were also signed on Wednesday to boost soy production in Cuba, to strengthen institutional and laboratory sanitary control in both countries.
The two countries agreed to jointly work in the transfer of methodologies for the genetic control of different diseases that affect tomato and pepper crops and in the development of techniques for the biologic control of pests.
Likewise, the agreement for the second meeting of the Cuba-Brazil working group on economic and commercial aspects was signed.
The documents were penned on the Cuban part by First Deputy Minister for Foreign Affairs Marcelino Medina and the head of the Ministry for Foreign Trade and Foreign Investment Rodrigo Malmierca; while on the Brazilian part, they were signed by cretary General of the Ministry for Foreign Affairs, Antonio de Aguiar Patriota and Minister for Development, Industry and Foreign Trade, Miguel Joao Jorge Filho.
During the same ceremony, a contract of international economic association was set between Quality Cuba S.A. and Brazil's Building Works and Infrastructure Company for the development of construction works in the Mariel Port, in Havana.
The deal was endorsed by Ricardo Boleira Sieiro Gimaraes, representative of the Brazilian company in Cuba; Mauro Augusto Hueb da Silva, Director of the project on the part of that nation and by Juan Carlos Vilaragut Montes de Oca, with Quality Cuba S.A.
Source: ACN
---
Related News
---