Brazil President Begins Work in Cuba
Submitted by: admin

02 / 24 / 2010
---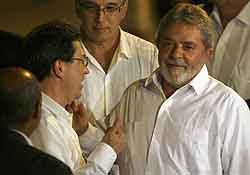 Brazil's President Luiz Inacio Lula da Silva is beginning a working visit to Cuba on Wednesday, fulfilling an invitation by his Island's peer Raul Castro.
  Lula, who participated in the Latin America and Caribbean Unity Summit held in Mexico, will meet with top-level authorities and visit sites of economic interest.
This is the third occasion that Lula visits Cuba as president of Brazil. Links between both nations have been excellent in cooperation, economy and trade.
According to official figures, about 43 Cuban collaborators are currently working in Brazil contributing their expertise in education, sports, health, culture and agriculture.
Brazilian educational authorities have successfully implemented a teaching program to erradicate illiteracy. Nearly 626 Brazilian students have been graduated in Cuba through scholarships granted by the Cuban Government free of charge since the beginning of the professional training cooperation, 271 of them as physicians at the Havana-based Latin American School of Medicine.
The South American statesman set up the Workers' Party (PT) on February 10, 1980, along with other unionists, academics, politicians, and representatives from social movements, including rural and religious leaders.
The PT presented Lula as a candidate to the presidency of the Republic in 1989, and due to a small difference of votes, he was unable to win the runoff.
Later in 1994 and 1998, the PT founder ran again for the presidency without results. On October 27, 2008, Lula won elections with almost 53 millions of votes.
The South American statesman was re-elected as a head of State in 2006, with over 58 millions of votes.
Source: PL
---
Related News
---