Benny More, Vivacious and Ardent Harmony
Submitted by: admin

02 / 23 / 2010
---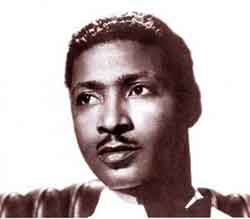 My grandfather met Benny More. My father heard of him since he was very young and grew enjoying his music.
He is Benny's fan and defends his musical work. He has encouraged my brother and me to love his music, because this harmonic and melodious man knew how to win a top place in the cultural panorama of Cuba and the world.

His sharp ear, his restless body, his tuned voice, his walking stick, his elegant suit, his hat and his charming way of walking always accompanied him.
He was not an ordinary people. Beny is a singer and an orchestra's director that empirically popularized the most beautiful boleros and sones (musical genres) that I have ever heard.

His life was not perfect. He made errors like any human being, but his simplicity and humility saved each one of the moments in those that he had inadequate behaviors. His candor was his best friend. He enjoyed his life and was very happy most of the time.

He traveled many towns to always return to his native Cienfuegos. He loved Cuba and respected it very much. He admired the landscape of his country. He walked in shades to leave triumphant and to elevate his voice to the heavens like. He never lost his faith in peace he surely found.

Benny More still lives among the Cubans. His music has immortalized him. His excellent mambo is remembered as part of a legend, because he is the best singer of the Cuban rhythms and he was characterized by a wide knowledge on the music of his Caribbean land.

Source: Tiempo21
---
Related News
---