Frank Fernandez to play at Tomás Terry Theater
Submitted by: admin

02 / 20 / 2010
---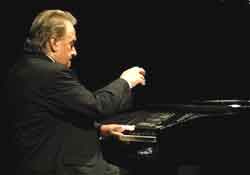 The renowned Cuban pianist Frank Fernández will take the stage once more in the Tomás Terry Theater, in this central Cuba city, an institution that is celebrating its anniversary 120.
Antonio Enrique Gonzalez Rojas, a specialist at this theater, said that on Friday the public can enjoy a unique concert of the composer of themes for the ballets Genesis, Involution, Pas de Seul and Controversy.
Among the best known creations are also the soundtracks of television soap operas like "La gran rebellion" (the Great Rebellion), "Cuando el agua regresa a la Tierra" (When the water returns to Earth) and Tierra Brava, said Gonzalez Rojas.
He noted that Frank Fernandez's repertoire includes works by Johann Sebastian Bach, Joseph Haydn, Wolfgang A. Mozart, Ludwig van Beethoven, Frederic Chopin, Sergei Rachmaninov, Manuel de Falla and George Gershwin.
According to the EGREM record company's website, an entity which markets some 80 titles of the musician, Fernandez is one of the leading figures in the interpretation and teaching of the instrument.
Frank Fernandez has been the winner of dissimilar awards nationally and internationally. He was born in Holguin, and has formed excellent artists like Victor Rodriguez and Jorge Luis Prats.
Frank Fernandez's presentation at the Tomás Terry Theater will be a tribute to the longstanding cultural institution of Cienfuegos.
Source: ACN
---
Related News
---