Cuba Sends New Medical Team to Haiti
Submitted by: admin

02 / 18 / 2010
---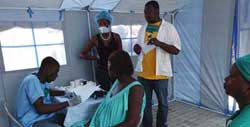 Fifty Bolivian doctors who graduated from the Havana-based Latin American School of Medicine (ELAM) arrived in Haiti on Monday to join the Cuban healthcare professionals who are assisting victims of the January 12 earthquake that wreaked havoc in this nation.
The Bolivian doctors are also part of the Henry Reeve Cuban emergency medical brigade, a contingent of Cuban and Cuban-trained doctors specializing in disaster situations and epidemics.
Along with several ELAM students, the Henry Reeve medical brigade has been working day and night following the catastrophe to save as many lives as possible.
Cuba and the ALBA member nations continue to work on restructuring the Haitian healthcare system, while Cuban health professionals have implemented an aggressive prevention campaign against epidemics and a series of follow-up care such as physiotherapy and rehabilitation.
The new team of Bolivian doctors have been sent to work primarily in community care centers, field hospitals and other medical facilities in Croix des Bouquet, Leoganne, Arcahaie and Grand Goave.
So far, Cuban collaborators from the Henry Reeve medical brigade —residents, medical graduates, Haitian medical students and a group of American doctors graduated from ELAM— are serving in at least 20 community healthcare centers operating in Port au
Prince and the surrounding areas.
Bolivian doctor Wilson Vega Varado, who graduated from ELAM in 2009 and is a member of the new relief team, is firm in his belief of the historical and humanitarian importance of helping the Haitian people overcome this catastrophe.  
Source: JR
---
Related News
---