New Book on Alberto Granado and Che Guevara
Submitted by: admin

02 / 18 / 2010
---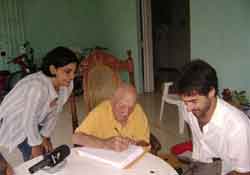 Motorcycle Diaries by Brazilian director Walter Salles not only popularized the travels of a young Ernesto 'Che' Guevara and friend Alberto Granado through South America but also an enduring friendship.
El Che confía en mí (Che trusted me) details this friendship before, during and after the legendary trip, and was launched by the Abril publishing house on Monday at the ongoing 19 International Book Fair in Havana.
Written by Rosa María Fernández Sofía, the book is based on a series of interviews the longtime Cuban television and newspaper reported conducted with Alberto Granada.
How did the project to write El Che confía en mí come about?
"I was interested in writing something about Che's penchant for literature and his background in philosophy after I heard the poems of a young Ernesto Guevara put to music and sung by Ivette Letusé.
"I approached the Che Research Center with the idea and immediately received their enthusiastic support. I decided to carry out a series of interviews beginning with Alberto Granado who immediately captivated me.
"We met and I began to try to convince him —which wasn't easy because he doesn't like to talk about himself— that someone needed to record his story."
Is the book an interview with Granado about his relationship with Che or is it more like an autobiography of Alberto?
"It is a book based on the spirit of humbleness and friendship, of selfless surrender to one's fellow human beings. Both Granado's and Guevara's life were based on this idea.
"The story follows the friendship shared between the two friends from when Ernesto was 14-years-old and Alberto was in his 20s, outlining all the shared dreams and days, their great adventure through South America and what happened after they went their separate ways following their travels.
"The book is also a tribute to love, dedicated by Granado to the Cuban people. Granado founded several universities in Cuba and helped train hundreds of professionals in Medicine and Genetics, many of whom today are leading scientists in their field."
How is the book structured?
"In the book I provide a background of Argentine and Latin America history to give the story context. It contains several little known anecdotes and photos of their trip through South America, of their friendship after they parted ways in Venezuela, of meeting up again in Cuba and up until their final farewell. It also contains Granado's reflections on Che's death, the returning of his mortal remains to Cuba and all the difficult stages that the Cuban Revolution and people have lived."
When we are in the presence of an extraordinary person, we invariably become trapped by their personality. What was it like to be with Alberto Granado?
"With all respect for Delía, his life long wife, I fell in love with Alberto. He is an extraordinary man, full of passion, happiness and wisdom at age 86; and with all the humbleness and elegance of a good man. I always tell my friends and my children that on October 8, after I finished the interview, it began pouring rain. I left his house under this intense rainfall and it was the first time I felt the grace and beauty of raindrops falling on my face. So, meeting a person like Alberto really enriches your life."
Why did you dedicate El Che confía en mí to the new generations?
"Because every day it becomes harder and harder for young people to meet people of the historical stature of Ernesto and Alberto, and their only way of getting to know them is through what is written by and about them. I have two young children Fidel Alejandro and María Carla; this book is for them and everyone else who has the responsibility of continuing the work of the Revolution.
Source: JR
---
Related News
---