Cuban Psychologists Working with Traumatized Haitian Children
Submitted by: admin

02 / 14 / 2010
---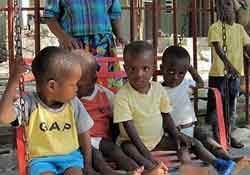 Reports from the Haitian town Croix des Bouquets, outside Port au Prince, highlight the work being done by Cuban health professionals in an area where lots of children need support because of their traumatic experience of the earthquake that ruined their young lives last January 12th.
Community leaders organized a meeting between parents and Cuban health workers to find ways to help the children, "the most vulnerable population sector in catastrophe situations," according to a Prensa Latina report. Cuban doctor Cristóbal Martínez spoke with the parents and children. An earthquake survivor provided translation into Creole (also known as Kreyol).
Martínez outlined the "program for mitigation of psychosocial damage" that he and his colleagues knew about. Discussion ensued, and soon there was the go-ahead for a "children's festival." That event featured story readings, singing of Haitian children's songs, and picture painting sessions "permitting children to put their nightmares off to one side, at least for a while."
The Cuban child expert suggested that "although there had been a terrible disaster, if children go to school, eat, play, and can enjoy themselves, in their awareness the disaster has already passed ... When these children are in school and can play and do a sport, which definitely is a game, the battle is practically won."
The Cuban team carries out its program of play, recreation, and sport at the periphery of the health care site. They promised to introduce it in other parts of the devastated area including Leogane, east of Port au Prince. There, 15 Haitian activists belonging to the Simon Bolivar community have been charged with "improving the mental health of their younger compatriots."
Source: www.periodico26.cu/
---
Related News
---