Breastfeeding Benefits Both Mothers and their Children
Submitted by: admin

02 / 14 / 2010
---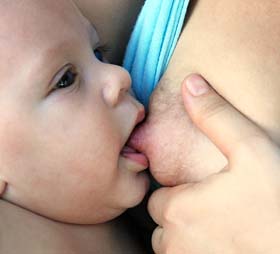 The coordinator of the National Breastfeeding Program, Neonatology expert Válter Martínez, highlighted in Havana the importance for nursing mothers to feed their babies exclusively with their milk during the first six months of their lives, and then complement it with food until they're two years old.
At present, scarcely 26% of women feed their babies exclusively with their milk during the first six months of their lives.
It's the purpose of health authorities to increase information about this theme, because specialists interviewed by this newspaper share the criterion that the knowledge women have on the benefits of breastfeeding for both mothers and their children positively influences the implementation of this diet.
"This largely depends on the information pregnant women receive, something in which the staff providing health services has great responsibility, as well as in offering them good prenatal psychological training", Dr. Martínez consideres.
The agency of the United Nations that protects the rights of children, UNICEF, assures that mother's milk has a perfect balance of the nutrients and the water a baby needs to achieve its adequate growth and development; it also prevents multiple diseases like diarrhea or pneumonia, and even makes it possible for a breastfed baby to have a higher coefficient of intelligence.
Likewise, it reduces risks of breast and ovary cancer, and helps women to recover the weight they had before pregnancy. Recent investigations affirm that adults who were breastfed when they were babies usually have lower blood pressure, less cholesterol and less rates of overweight, obesity and diabetes dependent on insulin.
The World Health Organization recommends colostrum (the thick, yellowish milk produced at the end of pregnancy) as the perfect food for newborns, and its administration should begin one hour after they're born.
Cuban working mothers, privileged by the socialist society, have even the possibility of expanding exclusive breastfeeding beyond six months, since they're given paid maternity leave for one year.
Due to the protection if offers a baby, mother's milk is not only considered the best food. It's also the best vaccine to guarantee the good health of newborns.
  Source: Granma
---
Related News
---