Regional Body to Coordinate Disaster Relief
Submitted by: admin

02 / 11 / 2010
---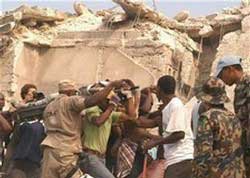 Colombian president Alvaro Uribe, proposed in the summit of the Union of South American Nations (UNASUR) on Tuesday the possible creation of a regional body to coordinate and assist the prevention of risks and disasters.
Uribe said his country is willing to help in the mechanisms that allow the cancellation of multilateral debt of Haiti, whose figure is mentioned in 428 million.
After his visit he received a Haitian government official, Uribe expressed his complete openness and collaboration with the government for the reconstruction of a given area of the country or in the place that the Haitian government decides or disposes.
In relation to a possible multilateral credit to finance the reconstruction of Haiti, Mr. Uribe suggested it should be as flexible as possible, and added to the proposal to exonerate restrictions and tariffs on Haitian products and flexible immigration issue.
For his part, Vice President of Bolivia Alvaro Garcia, offered to contribute with seeds for the recovery of the agriculture in Haiti, which will leave the collection center that owns the Bolivian state and it is in function of the ype of production in Haiti.
"We believe that some of the resources set aside for this country should be devoted to support agriculture, so that next year the Haitian economy may have resources to guarantee food sovereignty, which is the foundation of a solid state", Garcia said.
Source: cubasi.com
---
Related News
---