Dayron Robles' lucky numbers
Submitted by: admin

02 / 10 / 2010
---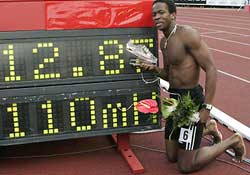 The number six appears to be a lucky number for Olympic champion and world record holder in 110 meters hurdles Dayron Robles.

In sports, not indifferent to superstition, the number six is the lucky number for the athlete. He was born on November 19th, 1986. He broke the world record on June 12th, and just days ago, he set the best record in the current indoor season (7.48)
in the athletic meeting of Stuttgart, Germany.

Where there's smoke there's fire and using our memory, Dayron debuted two years ago with a strong warning to rivals on the verge of his world record 12.87, when clocking the second best time in indoor history, 7.33 seconds in Dusserldorf, Germany.

This record is only surpassed by British Collin Jackson's on March 6th 1994, (7.30), also in the German city of Sindelfingen.

That would be the prelude to the best year in his short but fruitful career. Ahead there would be seven races in which the Antillean runner lowered the barrier of 13 seconds to emulate his compatriot Alejandro Casañas, who also set a world record in 1977, with 13.21 in Sofia, Bulgaria.

A 2009 without results does not keep awake the athlete of easternmost of Cuba's province.
Before traveling to the Old Continent, he commented on his winter European tour: "I'm focused. I hope to have good results. I feel a hundred percent physically speaking thanks to an excellent training.
The rivals are those of the past few seasons. I am not afraid since I know them. I also like this debut in the 60m hurdles because I prefer the distance." The world titles, both outdoor and indoor, are the ones Dayron has not been able to achieve.
He could not achieve the podium in Osaka 2007. He was 4th place with 13.11 behind Chinese Liu Xiang (12.95), and Americans Terrence Trammel (12.99) and David Payne (13.02).

Nerves played a trick on him the following world championship in Valencia, Spain despite being clear favorite. He remained shocked in the starting block, costly error that deprived him of keeping him in competition.

Let's don't cry over spilt milk

A saying reads that it is vital in life to recover from adversities. Everything indicates that Dayron Robles will apply such philosophy this 2010. Good records, gold medals focus his attention these days.

Perhaps the best formula lays in the mentality of one of the most complete athletes of all times, Carl Lewis, "the son of the wind," and many times champion in Olympic Games who held the world primacy in the 100 flat.
He emphasizes "athletes always have a record to pursue; hence there is always a chance to break it."

When Britain's Colin Jackson set his 12.91 back in 1993 it was not sure how much it would last. Liu Xiang broke it in 2006.

Dayron Robles, immersed in an excellent physical shape, broke Xiang's record and suggests the possibility of breaking his own record once again. It may well be 12.86.

Source: Cubasí
---
Related News
---