Fidel Castro sends message to Cuba's Medical Brigade in Haiti
Submitted by: admin

02 / 09 / 2010
---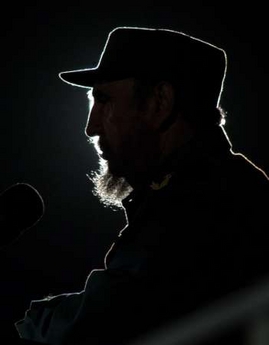 The leader of the Cuban Revolution, Fidel Castro, sent a message to the members of the island's Henry Reeve International Medical Brigade for emergency situations, and also to the graduates and fifth and sixth year students from the Cuba-based Latin American School of Medicine (LASM), who are currently providing health services in Haiti.     
"Today, you are writing one of the most beautiful pages in the history of human medicine," the letter reads.
Esteban Lazo, Vice President of Cuba's Council of State and bearer of the message, read it on Monday at a Cuban-run field hospital in Croix des Bounquets, where he arrived accompanied by other Cuban officials.
"Helping to save lives, to heal the wounded and to rehabilitate people, and to work for the well-being of human beings, will always be an invaluable honor for any man or woman," the text stresses.
Referring to the LASM graduates and students working alongside the Cuban doctors, Fidel wrote that it is an honor for the Cuban people "that you have voluntarily and enthusiastically joined this colossal effort."
"The world will closely follow this feat that you are accomplishing and pride will fill the hearts of all the people of this hemisphere represented there by their fellow countrymen providing health services," Fidel wrote.
"On behalf of all Cubans, your sincere and grateful Caribbean brothers, thank you. Thank you, on behalf of all of us who have fought for these dreams of equity and justice," the leader of the Cuban Revolution concluded.
Source: ACN
---
Related News
---