Six Cuban Rehabilitation Wards Offer their Services in Haiti
Submitted by: admin

02 / 03 / 2010
---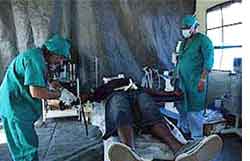 The first six Cuban Rehabilitation wards came into operation on Monday in this capital, devastated on January 12 by an earthquake of great intensity.     
Doctor Carlos Alberto Garcia, one of the leaders of the Cuban medical brigade now in Haiti to help disaster victims, affirmed that physical therapy is a nonexistent public service in the country, so the number of patients with polytraumas will increase as patients know about the existence of this service, offered free of charge.
Services for mental health for the population, severely damaged by the earthquake are organized with the arrival from Cuba of psychologists and psychiatrists.
 Psycho-cultural and recreational activities for children and young people, to contribute to their mental recovery will be carried out over the following days.
Also part of the work of Cuban health professionals was the vaccination of over 20,000 Haitians during the first days of the anti-vector struggle to prevent epidemic outbreaks, informed Dr. Garcia.
The Cuban Medical Brigade in Haiti is made up by 938 members, over half of them working in his capital, whose actions are materialized in three hospitals in Port-au-Prince, together with another four field units and five Centers for Comprehensive Diagnosis.  
The Cuban medical staff and the Haitian doctors who graduated from Havana's Latin American School of Medicine have so far treated over 50,000 patients.
Parallel to this, during their visits to the over 40 population settlements in the open air, Cuban anti-vector specialists have cleared areas from rats and rodents, have fumigated them and implemented measures to control vectors. However, the demand of these tasks is beyond their possibilities, in view of the prevailing hygienic situation.  
Over the weekend, construction brigades recommenced the different stages of the building of five Centers for Comprehensive Diagnosis, which will complete the total of 10 planned as part of joint efforts between Venezuela, Haiti and Cuba. Two of these centers will be finished over the following days.
All these works are carried out as part of the contribution of the countries that are
members of ALBA (the Bolivarian Alliance for The Americas), in coordination with national and international organizations present in Haiti for emergency medical actions and for the struggle against epidemics in disaster areas.
Source: ACN
---
Related News
---