Cuba Fights Epidemics in Haiti
Submitted by: admin

01 / 30 / 2010
---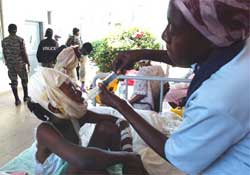 Possible outbreaks are among the greatest risks hanging over the Haitian capital after the quake, something Cuban workers try to avoid with their vast experience and resources.
Huge efforts are made to control risk factors, and providing health information to people is very important, Gonzalo Estevez, epidemiologist of the Cuban medical brigade in Haiti, told Prensa Latina.
Before the quake, the hygienic-epidemiologic situation in Port au Prince was deplorable, as there was no system for garbage collection or drains, Estevez said.
The 64 collaborators who recently arrived in that city for epidemiologic tasks are teaching the population how to deal with liquids and solid wastes, and properly manipulate water and foods.
Haitian-Cuban groups put posters in Creole language to inform the population. They do no only carry out prevention tasks; they also make studies, and have medicines against typhoid and leptospirosis in their backpacks.
"If we are able to cut outbreaks, we will win the battle," the expert noted.
The Cuban health workers have vaccinated people against tetanus, and a vaccination campaign against diphtheria, whooping cough, and measles is being organized with the support of the pan-American Health Organization.
Source: PL
---
Related News
---