Fruit harvesters beyond plan figures in Ciego de Avila province
Submitted by: admin

01 / 29 / 2010
---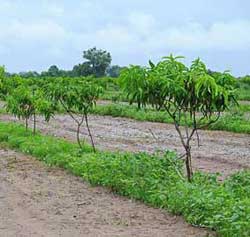 MangoFruit harvesters of the province of Ciego de Avila sowed more than 2 400 hectares of fruit trees during 2009, mainly papaya, guava, pineapple and mango, as part of a national program scheduled up to 2015.
"The figure represents 208 % of plan fulfilled. The high results is a reference of the State farmers' commitment  and those of the Cooperative and Peasant sector", informed Armando Lorenzo, agriculture expert in the province.
He added that the strategy regarding these crops comprises all the municipalities of the country, with the objective to satisfy the population, industry and tourism demands and to increase exports.
In Ciego de Avila the first areas planted as a result of this plan yielded some 19 000 tons which natural juices were dedicated to local consumption and exports.
"Among the new plantations, pineapple stands out. It was the most affected crop during the Special Period, but currently shows an encouraging panorama as the it is already grown in eight of the ten municipalities of the province", stated Noel Gil, president of the National Association of Small Farmers in Ciego de Avila province.
He highlighted the fact that more than a hundred rural families are dedicated to grow this friut, using a technological package provided by the Ministry of Agriculture.
The objective is to take advantage of the urban and suburban agriculture for the development of diverse species in the current year, including 100 hectares of the so called exotic fruits, such as, soursop, custard apple and passion fruit.
Another purpose is to increase biodiversity and the conservation of the environment through reforestation and the use of low impact technologies, as well as good practices in the management of watersheds
Source: Invasor
---
Related News
---