Recital Dedicated to Jose Marti in Venezuela
Submitted by: admin

01 / 28 / 2010
---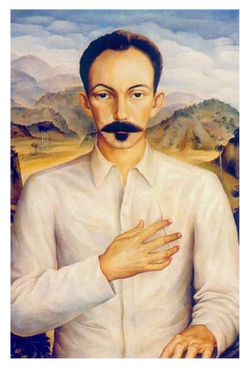 Venezuelan poets with Cuban actor Carlos Ruiz de la Tejera and minstrel Jesus del Valle (Tatita) dedicated poems and songs to Jose Marti in Casa de Nuestra America Jose Marti (Our America House).
Half dozen poets from Andres Eloy Blanco Poets Society with Ruiz de la Tejera and Tatica paid homage to the Cuban hero who turned 28 in that country in 1881, few days after arriving in Caracas.
Ruiz de la Tejera stated to Prensa Latina that they had the opportunity to act at the National Special Polytechnic University of the Bolivarian Armed Forces in Vargas state.
He said they ended the presentation with a Cuban Son with lyrics based on Marti's work, a poem of Cuban Carilda Oliver and other of Gerardo Hernadez, one of the Cuban five prisoners in the USA.
The actor recited the monologue  El Bonsai (bonsai) written by Spanish Anibal Nazoa, who passed away in Caracas on August 18, 2001.
Bonsai monologue is Cuban leader Fidel Castro and Hugo Chavez's favourite stated Ruiz de la Tejera to Prensa Latina.
Andres Eloy Blanco Poets Society was founded on August 6, 2004 by Rey D Linares. It is formed by 20 members coming from Caracas, Miranda, Aragua and Barinas states.
Minstrel Jesus del Valle (Tatica) works with Ruiz de la Tejera since 1979 in recitals of songs, poems and humor, successfully presented in Cuba, Latin America, Europe and Africa.
Source: PL
---
Related News
---