Antonio Nuñez Jimenez and his expedition to Camaguey
Submitted by: admin

01 / 25 / 2010
---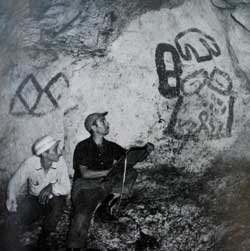 Considered the fourth discoverer of Cuba, Antonio Núñez Jiménez left profound marks of love to nature and to knowledge in every corner of the Island he visited.
Because of his irrepressible passion for the unknown, by the end of 1956 he made his way towards Cuba's largest province, Camagüey, accompanied by scientist Manuel Rivero de la Calle, in an expedition organized by the faculty of Anthropology and Geography of the Central University of Las Villa.
What seemed to be a routine trip to the interior of the country, turned out to be for the Cuban geographer, speleologist and archaeologist; and his colleagues, the first mound representing the Taino's indigenous culture outside the Oriente province.
Nuñez Rodríguez and Rivero de la Calle's plans included the visit to a cave in Cerro de Tuabaquey, a hill belonging to Sierra de Cubitas, where important aboriginal wall paintings had been reported and then they would climb to an archaeological site located in the summit of Guaney hill, a height near Esmeralda's northern coast.
Núñez Jiménez was lucky in this site when he found a mound that the indigenous Taino people of the area had build using earth, rocks and pieces of clay to honour Bat, one of their idols.
The discovery of the two to three meters-high mound per 14 meters wide, and 108 meters long from one extreme to another of the bat's giant wings, made possible to find 471 archaeological pieces of stone, mud and bones.
At the edge of that site, the scientists also dug up a pan which had a bat in its handle, and like in the mound, the animal had the wings opened and set out to fly.
Jiménez enjoyed many moments like this during his fruitful professional career, among them the archaeological findings carried out in the caves of Seboruco (Mayarí, Holguín) in which the scientist discovered the eldest culture of the Cuban archipelago and maybe of the islands within the Caribbean region.
The speleologists from Camagüey, faithful followers of Antonio Núñez Jimenez's work, carry on doing their researches in different locations of the territory, organized by the local branch of Cuba's Speleologist Society.
Source: www.cadenagramonte.cu/
---
Related News
---