Cuba's rescue effort in Haiti
Submitted by: admin

01 / 18 / 2010
---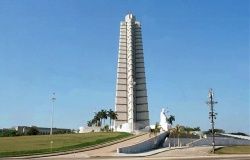 While the focus of the enormous rescue and assistance effort in Haiti has been on the part played by the United States, dozens of other countries and non-government agencies have made major contributions to a massive humanitarian gesture to relieve the suffering of the island's population.
Brazil, Mexico and Venezuela are participating in the relief effort.

Brazil reportedly lost at least 14 officers attached to the UN Mission. Cuba has sent ten tons of medications. Since 1998, Cuba's health cooperation with Haiti since then have made it possible for 6,000 doctors, paramedics and health technicians to work there.

Besides, 450 young Haitians have graduated as doctors from Cuban colleges, free of charge, in the past 12 years.

Ever since I met Martin Hachtoun in New York 25 years ago, he was a Cuban journalist, covering the United Nations. But we have maintained our friendship ever since then, either in Havana or when he was based in Vietnam and India, working for Prensa Latina, Cuba's national news agency.
Martin returned home last year and I emailed him to determine the extent of help the Cubans were providing their nearest stricken neighbours that has not been reported in the United States. Here was his reply:

More than 400 Cuban specialists, 344 of them doctors and paramedics, have been a part of a recent humanitarian program in Haiti, jointly sponsored by the United Nations and the Cuban government.
But in the wake of last Tuesday's disaster, the largest earthquake ever to hit the Caribbean Basin, Cuba dispatched another team of 60 doctors, health technicians and medications to join the doctors on the ground in Haiti, 50 miles away.

The specialists are experts in coping with natural disasters. The team then joined the Cuban doctors already on the ground to help the victims. Three of the Cubans, who were in Haiti at the time of the violent tremor were injured, one seriously.

A Cuban television correspondent and a reporter of the National Information Agency (AIN) flew together with the doctors to cover the tragedy. We beefed up our coverage by moving our man in the Dominican Republic, to Port au Prince.

  The quake was felt in Cuba's most eastern provinces, particularly the old city of Baracoa. There was no damage, but miraculously in just one hour, 50,000 people were evacuated to high land for fear of a tsunami.
Fortunately it did not materialize. Nonetheless, it was a remarkable feat of logistics. But once the Cuban Seismology Institute and Civil Defence determined there was no danger, the evacuees were returned home to resume their daily lives.

Source:www.huffingtonpost.com
---
Related News
---