The Magician Artists, an exhibition of Canadian and Cuban Painters in Camaguey city
Submitted by: admin

01 / 17 / 2010
---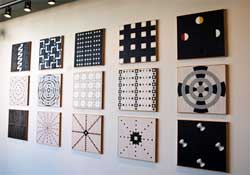 Canadian painter James K-M joins his pictorial art to the Camagüey creators Joel Jover and Osmany Soleras in the exhibition, The Magician Artists, shown in eastern city of Cuba.
The exhibition is composed by 34 two-dimensional works in which the authors, instinctively or subconsciously, revisit two basic art streams (pictographic naturalism and ideographic abstract).
From their personal aesthetics they work a set of signs and symbols that illustrate the persistence or connotation of the origins of contemporary art.
Besides its artistic dimension, the exhibition shows anthropological values, as an exponent of exchange between Cuban and indigenous communities in Canada.
The exhibition is registered in the Arts and Humanities project driven by Jonh Clare to get people closer from the artistic expression.
From his visit to the island in March, this idea was born, materialized together with the Centre of Visual Arts in Camagüey.
Cuban colleagues Jover and Soler, have multiple awards and they have exhibited their work in national and international halls.
At present, their pieces are in private and institutional collections in several countries among them, Canada.
Source: PL
---
Related News
---