Revé Orchestra, the Changui rhythm brought from the eastern side of Cuba
Submitted by: admin

01 / 11 / 2010
---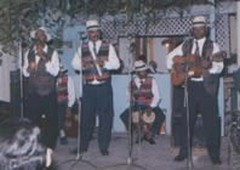 The king of changüí created a musically impeccable orchestra.    

Revé's secret about percussion was in the way he used the drumsticks, obtaining a very special sound, very much changui.

The legacy of the great musician from Guantánamo has gone beyond borders, and is heard in recordings by Roberto Roena, Broadway Orchestra, Ralphy Leavitt and his Select Orchestra, Sabor de Nacho Group, Típica Ideal Orchestra, Estrellas Cobo, Celia Cruz, and Ray Barreto, among other musicians.

One of the most capricious virtues of Cuban musicians is that, in most cases, they are not alike: all of them have an invariable seal, as of a secrete box. However, the legacy can be inherited. Such is the case of the Revé Orchestra.

I remember the day Elio Revé Matos (1930-1997) appeared on the Belgian TV by the end of the 1960s, in the program of Sacha Distel, the guitarist who dared to stand up the desired, famous and then beautiful Brigitte Bardot.
The king of changüí was brimming with joy, and made everybody dance at the house of eminent rocker Johnny Hallyday. That moment of undoubted success for the musician born in Cuba's eastern most region made me think that work is the other face of success.

Revé was born in Guantánamo, in a place called La Loma del Chivo, an important fact because key figures of changüí rhythm were also from that region, such as three-string guitarist Chito Latamblet, güiro player Carlos Boromeo, universally known as Cambrón, and dancer Mario Hodelín (Capullo).

La Loma del Chivo dates back to the 19th century, and filled its streets with white and black farmers who came from the mountains to the city of Guantánamo. Many of them were descendents of Haitian slaves who came to Cuba running away from their French masters after the Tousssaint Louverture revolution.

Most historians agree that changüí (which comes from nengón genre) is one of the eldest forms of son genre, and became very popular in the zone after happily merging with another musical form one can dance called French tumba.

According to René Ariosa, who played the güiro in the orchestra, Revé was a man of the French tumba, and learned all its secrets about percussion.

Already a great cultivator of timba music, Revé's secret about percussion was in the way he used the drumsticks, obtaining a very special sound, very much changui.

Once consolidated as artist in his birthplace, Revé travelled to Havana in 1956, when cha cha chá and charangas (brass bands) were in full swing. He was irreverent and thus creative, so when he founded his orchestra, he replaced the habitual violins and flute in brass bands by the loud and high-pitched trombones of jazz bands, but maintained the old changüí like pattern, the bongo, the clave, and the three-string guitar.

He also made another innovation: he altered the respected harmony of singers by playing with choruses and deep voices, maybe taken from La Sonora Matancera orchestra.

His open mind made young musicians trust him, and that "policy" was fruitful, having figures in the orchestra who would renew the Cuban music of the last 50 years like Jesús "Chucho" Valdés, Juan Formell, César "Puppy" Pedroso, Juan Carlos Alfonso, and Yumurí.

When the orchestra was at the pinnacle of success, the musician was able to have a trio of excellent singers (Valentín, William Padrino, Alfonsito) who made history with their well-pitched voices and flourish.

The orchestra was musically impeccable, with great spaces for all instruments, as if it were a well coordinated but diverse machinery.

The only complaint he heard was made by Venezuelan musicians Oscar D'León when he visited the island and told his Cuban colleagues: "you must leave a space for people to show off, for individualities, let the piano hear, let the trombone hear."

It seems Revé wrote it down and made of the band a boutique of very special music, with the fervent performance backed by his singular, husky voice.

Songs such as Más viejo que ayer y más joven que mañana; Pu Pu Chan Chan, ahí viene el tren; Tremendo Jala Jala, tremendo traqueteo; Gente de barrio come to the minds of people fond of music and fun, as synonyms for authentic party.

When the founder died in 1997, the orchestra divided into two, respectively led by Oberquis (Revé's brother) and Elito (his son). The two of them have preserved the initial sound and identity, from different "battlefields."

The legacy of the great musician from Guantánamo has gone beyond borders, and is heard in recordings by Roberto Roena, Broadway Orchestra, Ralphy Leavitt and his Select Orchestra, Sabor de Nacho Group, Típica Ideal Orchestra, Estrellas Cobo, Celia Cruz, and Ray Barreto, among other musicians.

Source: www.cubanow.net/
---
Related News
---