Orchids' workshop at Guanahacabibes Natural Park
Submitted by: admin

01 / 10 / 2010
---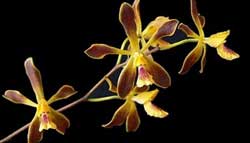 The first ecology workshop of orchid populations: Vanguard tools, will take place from January 19-24 at Guanahacabibes peninsula visiting centre, with the participation of 21 specialists from nine countries and 13 Cubans, whose research studies might help understanding the effects of climate change in tropical rainforests.
Ecology is the study of the interactions between organisms and the environment. The workshop is sponsored by Ecovida, Hermanos Saiz University and the Alicante College, institution that keeps close scientific collaboration with the higher education centre at Vueltabajo.
In addition to the experts of the abovementioned entities, the event will be attended by representatives of Soroa Orchid Garden, the National Botanic Garden, the one of Cienfuegos; Bioeco from Santiago de Cuba; Cienaga de Zapata ecological station and the national park Alejandro de Humboldt.
Doctor in biological sciences Ernesto Mujica Benítez, main specialist of Ecovida and who has worked in Soroa for 15 years, will present, along with engineer Elaine Gonzalez, two papers related to the preservation of the plant, considered a botanical rarity and defined by Darwin as "almost as perfect as any of the most beautiful adaptations in the animal kingdom.
Many of the structures of that plant are so adapted to its requirements that gave Darwin proofs for his natural selection theory.
Researcher Elaine Gonzalez is developing her scientific degree thesis about the impact hurricanes have on orchids, and so she uses international simulation models applied for the first time in Cuban orchid populations.
Since year 2003, the San Antonio Cape counts on an area to monitor several vegetable formations with three species:  Broughtonia cubensis, Encyclia bocourtii and Dendrophylax lindenii.
The first and the third are objects of research by Elaine. The first two show recovery symptoms five years after the hit of hurricane Ivan, and the third might disappear after the coming 25 years, according to the monitoring process, said Doctor Mujica Benitez.
Pinar del Rio has around 100 orchid species and the country some 300. In Guanahacabibes there inhabit six species endemic of Cuba and two of that region, they are Pleurothallis oricola and Encyclia bocourtii.
The Broughtonia cubensis is reported as original from that peninsula and the northern coast of Havana, although it is almost extinct from the latter.
Source: www.guerrillero.cu
---
Related News
---