Safe heaven for the American crocodile
Submitted by: admin

01 / 03 / 2010
---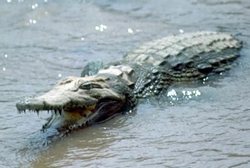 The people living in the municipality of Minas, northern Camagüey, are proud of the crocodile breeding farm and zoo perched in that area for being the one and only of its kind in the province.
Located some 10 kilometres from Minas, the visitor can find this special site where more than 600 individuals of the American crocodile (Crocodylus acutus), together with other species of the Cuban fauna such as the Cuban trogon (Priotelus temnurus),
which is the national bird; the woodpecker and the Cuban toddy.
Various species of trees, for instance, the guava, the mango as well as the black olive, the mutamba and the oak grow in a large area where we can find a unique crocodile breeding farm.
All these natural enchantments are blessed by the fresh waters of the Maximo River, and none of these treasures would exist today without the praiseworthy environmental management of the workers of this site in Minas, noted Carmen Membribes Cabello,
specialist of Science, Technology and Environment in this municipality.
"The zoo, located in the heart of the hydro-regulatory strip of the Máximo River, plays an essential role in the conservation of the natural values of the area.
"The personnel here makes an important work of forestry, they take actions against the invading plants and promote the environmental education among the members of the five neighbouring communities".
"The development of the ecological tourism is another project, basically walking and hiking tours for children studying in schools near the zoo, likewise the centre cares for the appropriate training of its personnel and monitors the flora and the fauna", says Mariano Padrón Fajina, chairman of the crocodile breeding farm and zoo.
Source: www.cadenagramonte.cu
---
Related News
---