Belkis Ayon's artistic creation, or Ayón Space is a Cuban landmark
Submitted by: admin

01 / 01 / 2010
---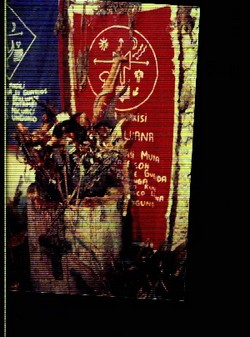 Belkis Ayón's imprint on the engraving school of the capital city was profound. The international acknowledgement of the Cuban engraver is not only limited to the attributes of her artistic creation.
Her efforts to highlight the young Cuban graphic arts of the 1980's and the 1990's, and also to draw attention to its representatives, are also renowned.
On the occasion of a recent exhibition of Belkis Ayón Manso's works (Havana, 1967-1999) entitled Nakme, several contemporary Cuban engravers, including students of the outstanding artist and teacher, participated in an individual and transitory display of their works, in a project that pretends to be kept alive with the name of Ayón's Space.
The harmonic dialogue between Belkis's work and the most recent Cuban graphic production lasted three months and was in the hands of Anyelmaidelín Calzadilla (Havana, 1975), Ángel Madruga (Havana, 1973), Aliosky García (Cienfuegos, 1979), Octavio Irving (Havana, 1978), Osmeivy Ortega (Havana, 1980) and Orlando Montalván (Havana, 1978).
Gathered under the general direction of Katia Ayón, the artist's sister, and Cristina Figueroa, curator, the artists joined this kind of rehearsal of the Ayón's Space, a project presented to the Cuban cultural institutions in 2004 and still waiting approval.
Conceived as a place for permanent exhibition and preservation of Belkis Ayón's work, and as a centre for meeting and debate in the capital city, the Space pretends to welcome and highlight young engravers engaged in the experimentation and search phases.
Source: www.cubanow.net
---
Related News
---