Scientific Achievements in 2009 of the Ministry of Science, Technology and Environment
Submitted by: admin

12 / 30 / 2009
---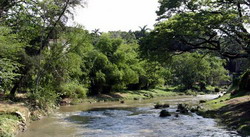 Cuba has a first-level science system worldwide which gains progress every year, assured here the delegate from the Ministry of Science, Technology and Environment (CITMA) doctor Roberto Castellanos in Havana City.
When introducing the main scientific results in Cuba in 2009 Castellanos highlighted how the scientific-technique activity, for its contributions, already constitutes an important line within the Cuban economy, noted Cuban News Agency AIN.
As a consequence of this work in this sphere Cuba can not only be seen a rum, tobacco or sugar exporting country, as traditional lines on the island.
Among the main products of the Cuban science he cited HepB Vaccines (against Hepatitis B), Hib (against Haemophilus Influenzae), tetravalente, Pentalenete, new formulas of interferon, Alfa and gamma, GAVAC Vaccine (for the cattle) monoclonal antibodies, among others.
So far in 2009 the Science (CITMA) Director Doctor Lillian Alvarez also reported that three VALERGEN antiallergenic vaccines formulas were introduced in the National Health System.
She also added spread inside and outside Cuba of Heberprot-P an injection for treatment complicated ulcers of diabetic foot developed in the Genetic and Biotechnology Engineering Center in Havana.
Other progresses of the Cuban science in 2009 Alvarez noted the new Cuban varieties of rice, a recombining vaccine against the classic swine fever and end of feasibility research for desalination of the Cuban sea.
She also highlighted many other progresses, final touches of the second version of the Map of Alert in the dangerous areas vulnerable because of the rise of the middle level of the sea due to the climate change by 2050 and 2100 in which research have taken part over 300 experts from 12 institutions, she emphasized.
In that way Alvarez said that it ratified the hope of the Cuban Revolutionary government that, as the leader of the Revolution Fidel Castro declared in 1959, the future of Cuba must be necessarily of men of science and thinking.
Source: PL
---
Related News
---