Female presence in Che's guerrilla
Submitted by: admin

12 / 28 / 2009
---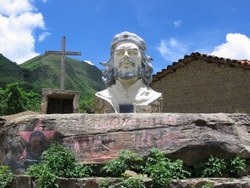 "I have devoted my life and strength to the most beautiful thing in this world, fighting for the freedom of mankind".
Those would be the first words Tania wrote in her diary and came true all along her existence.
Haydee Tamara Bunke Bider, or "Tania la Guerrillera", as many people called her, had a deep political maturity added to the youth and joy that distinguished her from other women.
In 1960 she met Che Guevara in a meeting of Latin American students held in Germany and in 1962 arrives in Cuba.
Here she started to work as a translator at the Ministry of Communications, and right away became a member of the National Revolutionary Militia, the Cuban Women Federation (FMC) and the Committees for the Defence of the Revolution (CDR), at the same time she was studying Journalism at Havana University.
She felt deep love for mankind in such a way that being a woman, was capable to follow Che Guevara to other lands and dedicate herself to the liberation of Latin American peoples.
For Tania, a revolutionary person should keep an impeccable behaviour in all senses, and that righteousness and firmness was added to her joyful character and love to flowers, sports and traditions from the peoples of this continent.
Her health worsened and she had to go to the rearguard, which was ambushed due to a betrayal and mortally injured in Bolivia on August 31, 1967.
Source: www.guerrillero.cu
---
Related News
---