Rancaño´s Abrazos prohibidos in the acute world
Submitted by: admin

12 / 25 / 2009
---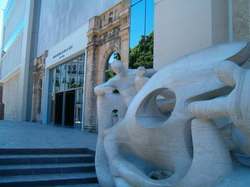 One of the exhibitions that were open during the days of the Movie Festival is Abrazos prohibidos by the very talented visual artist Ernesto Rancaño (Havana, September 1968), an exhibition which is somewhat away from the aesthetic measure we are used
to and which may be seen in Havana Gallery, found in Vedado neighbourhood at Línea street.
Abrazos prohibidos includes about ten pieces –all of them in a mixed technique- in which people might see not just the exquisite nature of the trace that characterizes Rancaño, but also concepts, ideas, that I think, reveal some of the most intimate keys that worry this young artist who is –until now- from enigmatic worlds.
All of the pieces belong to the series Abrazos prohibidos and some of them are truly moving because of the use of human figure –which are always on their back: you don't see a single face- to which is added linked elements in extended arms in true demand to be hugged, but also impossible to be hugged.
For example, Mala memoria shows some arms hooked on two iron structures –you may say wings with huge locks; En defensa propia the arms become huge revolvers; Señora sin Milagros is crossed with common fishing hooks; Y en inmundo de perdones vive, red pearls fall over as blood drops; in Como a quien no le importan las heridas there are sharp scalpels and Como herida may be associated to suggestive stilettos.
There is a single face in the exhibition Abrazos prohibidos and that is that of a cat with an astute and humane sight. The piece called Como un recuerdo que se mira, pero no se toca is found a little far away from the rest of the exhibition –in a curatorial decision, I think- in order to give some distance from the rest of the pictures. The nails that come from the cat's body  create a weird sensation of closeness-distance.
It is good that these Abrazos, which –despite having certainly a huge quota of being prohibited- keep recalling in us the act of being every day more humane despite everything and against everything.
Source: www.habanaradio.cu and cubarte
---
Related News
---