A book entitled: Cubans and Canadians, A look on Cuba's culture
Submitted by: admin

12 / 24 / 2009
---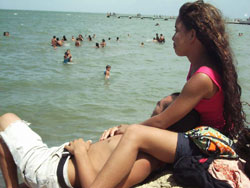 What comes to mind when Canadians think of Cuba? Sunshine, scenery and beautiful beaches. We think of the fun of the inexpensive, all-inclusive vacation - and the welcoming nature of Cuba's people. Cuba is our getaway, our warm-weather haven that allows us to escape Canada's winter chill - even if that escape lasts only for a week or two.

Dianne and Vincent Barnes have an entirely different perspective on Cuba.
Their first exposure to that lovely island off Florida's southeast coast began with a two-week vacation in March, 2008 - and they were so delighted and intrigued that they went back for more.
hey wanted to learn all they could about Cuba; they wanted to see the island and its people from a longer-term perspective. And so, in December, 2008, just nine months later, off they went for a three-month stay.

Their destination for the extended visit was the same apartment/hotel that they had visited back in March.
It was a chance for them to renew some friendships - and it provided them with a home base to explore Cuba, to interact with the island nation's citizens, to learn about Cuba's history, and to immerse themselves in its history and its culture.

Out of the couple's three-month exploration has emerged a delightful, newly released book entitled Cubans and Canadians: Our Two Societies. Over the course of its 184 pages, the authors take their readers on a memorable journey across the island, learning as they go.

They found, very quickly, that an instilled sense of human dignity, equality and justice is the thread that ties the island's people together.

They found a Cuban education system that is free of charge to all citizens right through the university years. They found readily available, quality health and medical care, again at no direct cost to Cuba's people.

And they were delighted to learn of Cuba's rich history and the enormous legacy created by generation after generation of Cuba's politically active female citizens.

Beyond all of that, they found something else: a quiet, proud contentment among the island's citizens.

Cubans may not have the same level of material comforts as Canadians, but they have something vastly more valuable: They lead peaceful, happy, respectful lives, and show genuine confidence in themselves and in their democratic socialist island nation.

And that, as Dianne and Vincent Barnes discovered, is something to aspire to, a lesson for those of us who have come to believe that money and materialism can buy happiness.

It can't.

Authors Dianne and Vincent Barnes live in Penetanguishene, Ontario. They have co-authored a number of published works, including their fascinating memoir entitled Our Long Road to Happiness.

Cubans and Canadians
Our Two Societies
2008-2009
by Dianne and Vincent Barnes
ISBN: 9780981067919
$36.95

Source: Yahoo
---
Related News
---