Cuba's Paintings about Sorolla's art at Huelva Provincial Museum
Submitted by: admin

12 / 22 / 2009
---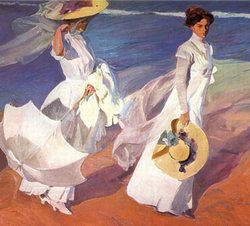 Huelva art gallery has recently been host to a temporary exhibition of the Valencian artist Joaquín Sorolla, taken from the impressive Cuban National Museum assets on this transcendental Spanish artist.
The exhibition is named Sorolla y sus contemporáneos, and is composed of nine pieces from Zuloaga and paintings from Andalusian artists like Gonzalo Bilbao and Sánchez Terrier from Sevilla; and Lopez Mezquita from Granada and Moreno Carbonero from Malaga.
The exhibition is part of the Iberian American Cultural Fall program. These paintings are being exhibited in Huelva for the first time.
The itinerant exhibition was thought to end up in Andorra, after 22 months away from Cuba, but the direction of the National Fine Arts Museum accepted the Caja Rural del Sur Foundation's request to have this exhibition to be present in Huelva before returning to Cuba.
The local government's president, Juan José Oña has spoken highly of this amazing event: "It is the first time that an Iberian American museum has undertaken an exhibition at the Provincial Museum of Huelva".
The art gallery exhibits only 58 of the 60 paintings, including Niña, a study Sorolla made of a little girl in the process of making the painting Verano which can be found at the National Fine Arts Museum in Havana City.
The 17 Sorolla paintings that make up the exhibition are part of the Cuban museums assets (32), 15 of which remain in permanent rooms and are occasionally moved to other rooms along with the rest of Sorolla's works.
The Cuban commissioner in charge of the exhibition Aimée Chicuri said that paintings belong to the period known as Cambio de siglo (Change of Century), at the end of 19th century or beginning of the 20th, where modernist tendencies, impressionism, and expressionism prevail.
Spain began to make incursions into these painting trends via realism with Luminism. The major representative of this trend is Sorolla.
The provincial culture delegate said the exhibition focuses on boosting the cooperation with Latin American institutions and its artists. "Cuba has a privileged place which has been gained through history due to a splendid culture, and we recognize that legacy in Huelva".
Source: www.metropolitana.islagrande.cu
---
Related News
---