Jagua Hotel, a long history of exquisite service
Submitted by: admin

12 / 22 / 2009
---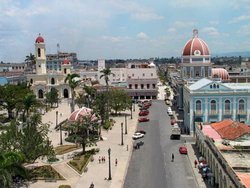 As a weird tree, Jagua Hotel rises in the ancient gardens of the Palacio de Valle, at the shores of Jagua Bay.  

Its construction was linked with mafia interests, though the number one hotel facility from the centre-southern territory of Cienfuegos would change the course of its history when it first opened in December 1959.  

The first ground work to level the terrain where the future hotel would be built began in 1956. The place was dedicated to offer lodging for the clients of the gambling house they wanted to organize in the Palace, sponsored by the New York boss of organized crime, Meyer Lansky, representing the Gulf and Caribbean Tourist Circuit and with Dictator Fulgencio Batista' s support.

The hotel was part of the chain formed by Havana Riviera, the Havana Hilton (today Habana Libre) and Colony, in the Island of Pines (today Island of Youth), the institution was first known in the projects as Hotel Chalet of Valley, and it was later change for that of Jagua, native word that means spring, beginning and wealth.  

On December 28, 1959 the opening ribbon was cut with the celebration of the International Convention of the Lions Club, but it wasn't until day 31 of that same month when it started to give services.  

After that year, important personalities found lodge in the hotel such as Commander in Chief Fidel Castro Ruz, accompanied by the then Cuban president Osvaldo Dorticos Torrado.

In 1964, Commander Ernesto Che Guevara, and Tamara Bunke Bider were there, as part of their training to become Tania the Guerrilla fighter.  

Among others remarkable guests of the hotel are worth mentioning arts personalities like Ignacio Villa (Snowball) Alicia Alonso, Victor Jara, and Wifredo Lam. 
Two years ago, also in December, Jagua Hotel was the headquarter for the 4th Petrocaribe Summit, led by the current Cuban President of the Council of State and of Secretaries, Raul Castro Ruz, and his Venezuelan counterpart, Hugo Chavez Frias.      

Jagua Hotel, the enchantment of the central region of Cuba

Lodging offers a complex that includes the recently inaugurated Encanto Hotel, the Green House, and the Palace of Valley. The latter offers the visitor a restaurant of international cuisine with the extra enchantment of its original architecture, as well as the possibility of tasting wines of quality in its Wine Cellar, the largest of Cuba.  

The most famous lodging facility in Cienfuegos city offers a whole view of landscapes, where sea and mountain are mixed all together.

Furthermore, it counts with a privileged location, just a few minutes from the historical centre of the city, declared a World Heritage by UNESCO in year 2005.  

The hotel has 149 wide rooms with a 50's style, the building eases Internet access, car rental, parking, bar 24 hours a day, Bureau of Tourist Information, current exchange, restaurant of international food, disco-cabaret, art gallery and souvenir stores.  

It also has a pool, a conference room, medical services and national and international communication.  

Special attraction is the celebration of its 50 anniversary this December 2009, when "Jagua" will offer an assorted selection of entertainments.  

From day 28 to 31 of December, there will be live shows of popular Cuban music, fashion parades and exhibitions of fireworks, among other proposals, celebrating the five decades of that tourist  facility.

Source: AIN and Cubasi
---
Related News
---