Efficient and rational use of resources in the health branch is even more needed in Cuba
Submitted by: admin

12 / 19 / 2009
---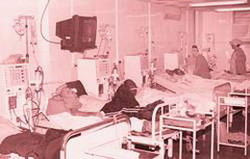 Cuban Public Health Minister Jose Ramon Balaguer, called on Thursday to increase efficiency and the rational use of human and material resources in this branch without affecting quality of services offered to the population.

While addressing the members of the Health and Sports Commission of the Cuban Parliament, Balaguer announced that Cuba will not close any hospital, not even in the worst moments of the world crisis.

He insisted on the need of saving as much as possible and boosting a culture of rationality at all levels of medical assistance, as well as to carry out clinical tests and other complementary studies to prevent the indiscriminate use of high technology, like it happens in some cases.

There's only one possibility for the world to be different, as that's by way of Socialism said Balaguer sententiously, while making reference to the help offered by Cuba to different nations in the training of health professionals, which constitutes  a pillar in the transformations underway in Latin America, he pointed out.

As an example, he mentioned the contribution Cuban specialists are making to psychosocial and genetic studies in Venezuela, Nicaragua, Ecuador and Bolivia to identify people with disabilities in their populations, and added that so far they have
visited over one million houses. 
The extension of this experience to the rest of the countries that are members of the
Bolivarian Alliance for the Americas was approved during the recently concluded Summit of this organization in Havana.

The achievements and deficiencies of the rehabilitation program in Primary Health Care, revised in 2002 by Cuban Revolution leader Fidel Castro, is accessible to the entire population, even in the mountains, and guarantees the re-incorporation of
patients to society in the shortest time possible -80% of people with disabilities are seen at these institutions, and have to do with some 400 diseases from the various medical specialties.

Source: ACNnews
---
Related News
---