ALBA, a better world is possible, declared president Raúl Castro
Submitted by: admin

12 / 15 / 2009
---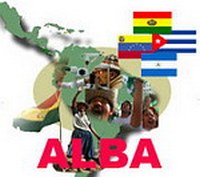 Cuban President Raul Castro assured on Monday that, in their struggle against the dangers and challenges of today, the members of the Bolivarian Alliance for the Americas (ALBA) pledge themselves to a common ideal and commitment, knowing that a better world is possible.  
Raul summed up the 8th ALBA Summit held for two days at Havana's Convention Centre, as part of celebrations for its first five years of existence and for the 15th anniversary of the first visit of Hugo Chavez to Cuba and of his meeting with
Revolution leader Fidel Castro.  
He declared himself to be in favour of strengthening Latin American and Caribbean
integration even more, something that inspired the two revolutionary leaders since the idea was born in 2001 in Margarita Islands, Venezuela, and later on when it was officially created in Havana on December 14, 2004.  
In the presence of the heads of state and heads of delegations and hundreds of youngsters from ALBA member nations now studying in Cuba, Raul made reference to important accords of the meeting.  
The first of them is the carrying out of a clinical, genetic and psychosocial study of people with disabilities in all ALBA member countries, which is aimed at reaching the most humble and vulnerable communities in the region, he pointed out.  
Likewise, he made reference to the commitment of building a Network of Science, Technology and Innovation, aimed at boosting capacities to generate and transfer knowledge and technologies in key sectors of the social and economic development of ALBA nations.  
In Latin America and the Caribbean, he said, contradictions between progress and reaction, between the rights and vindications of the peoples historically humiliated and the interests of the grand capital of translational companies and traditional oligarchies are expressed today with peculiar clarity.  
It's a conflicting contradiction that can't be solved from one day to the next and that can't be faced with naivety or carelessness, he affirmed.  
Being part of ALBA implies the purpose of building rational and efficient societies that can live on harmony with Nature, and struggle for social justice for our peoples. That's the cooperation and integration we promote, and such endeavour demands a revolutionary spirit, he declared sententiously.  
The speeches of the Summit's final session began with the words of Baldwin Spencer, Prime Minister of Antigua and Barbuda, which continued with those of Bolivian President Evo Morales and Philbert Aaron, Dominica's ambassador in Venezuela.  
Also addressing participants were Fander Falconi, Minister of Foreign Relations, Commerce and Integration of Ecuador; Patricia Rodas, Foreign Minister of Honduras; Daniel Ortega, President of Nicaragua; Ralph Gonsalves, Prime Minister of Saint
Vincent and the Grenadines; and Venezuelan President Hugo Chavez.  
Source: ACN 
---
Related News
---