Cuba's Sea Fauna studied by Spaniards and Cubans as well
Submitted by: admin

12 / 12 / 2009
---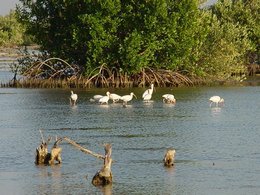 Scientists from the Spanish University of Oviedo and the Cuban Oceanology Institute will widen their investigations and studies on the Cuban sea fauna.
The investigations started in the Peninsula of Guanahacabibes, one of the zones with the greatest biological diversity in Cuba, and will continue in other areas with high ecological significance such as Cienaga de Zapata, largest Wetland of the Caribbean and a Biosphere Reserve.
"We want to complement the investigations made in the west of Cuba that let us classify 773 species of marine molluscs, 50 of them considered new species for science, said Spanish biologist and professor Jesus Ortea told  Prensa Latina.
Among the most conspicuous there is the Emiliotia inmaculatus, collected at 33 meters deep, and the Cubalaskeya Machoi.
Ortea said that 50 percent of the varieties live in Guanahacabibes, where there is a protection policy because of the regulations implemented to a biosphere reserve.
"We have found new species of crustaceans and a luminous slug, which emits light when it is caught among other findings," he stated.
Cuban biologist Jose Espinosa said this is a zone of surprising richness, with a great patrimony still to discover, and that Cuba might be a centre for plankton larvae that could favour the recovery of zones of the Gulf of Mexico and the Caribbean.  
Source: PL
---
Related News
---