Climate Change should be included in FAO's agenda
Submitted by: admin

11 / 19 / 2009
---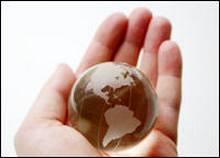 The recommendation was made by the VP of the Cuban Council of Ministers and Agriculture Minister Ulises Rosales del Toro in a round table discussion that took place on Wednesday during the last day of a UN summit on food security that concluded in
Rome, Italy.
Rosales del Toro, who headed the Cuban delegation to the meeting, participated in the round table entitled "Mitigating and Adapting to Climate Change: Challenges to Agriculture and Food Security", Prensa Latina news agency reports.
"Now, we not only have to face the consequences of the prevailing unfair international economic order but also the challenge of global climate change," the Cuban high-ranking official stressed.
He explained that short- and long-term fluctuations of climate may have extreme repercussions on agricultural production.
Likewise, he held the countries of the North responsible for global climate change and demanded serious commitments from them to reduce their emission of polluting substances.
"We need these answers today. Tomorrow, it could be too late," he concluded.
Source: ACN
---
Related News
---