Ecuadorian women and others from 17 Latin American nations paid homage to Cuban Heroine Vilma Espin
Submitted by: admin

05 / 31 / 2009
---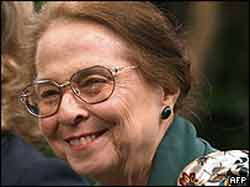 During the homage celebration, that took place at Casa de la Cultura, in Ecuador the leader of the Writers of Pichincha, Yolanda Añazco, stressed the revolutionary work and role developed by Vilma Espin in Cuba and all around the world in favor of the emancipation of women.
Añazco spoke about some aspects of her life, such as being President of the Cuban Federation of Women, who died in 2007.
Several Ecuadorian writers and poets read poems and works dedicated to Vilma, a defender of women's rights, and to Transito Amaguaña, a prominent indigenous leader who died in Quito in May.
FMC Secretary General Yolanda Ferrer expressed thanks for the warm gestures of love, admiration and solidarity to Espin and stressed her role in the unity of Cuban women.
The homage, organized by the Permanent Committee of Women's Rights, Ecuadorian Women Politic Coordinator and Vilma Espin Women Movement in Manabi province, counted among those in attendance, the Coordinator for the Regional Office of the International Democratic Federation, FDIM Dora Carcaño.
Benigno Perez, from Cuba, Javier Sarate, from Bolivia, as well as Magali Llort, Fernando Gonzalez's mother, one of the anti-terrorism fighters arbitrarily in prison in the US, also participated.
(PL)
---
Related News
---