Rafael Guzmán lives in a magic and colorful world
Submitted by: admin

05 / 05 / 2009
---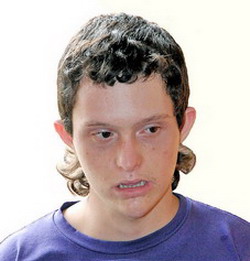 Rafi, what's up? -Here I am, happy. That is the response of young Rafael Guzmán Travieso, when his friends ask him.
This was the antecedent to entitle his personal engraving exhibit "Yo soy feliz" (I am happy), made up of 15 pieces, which was inaugurated a few days ago in the Provincial Genetics Center.
Rafael is part of the Project "Con amor y esperanza" (With love and hope), integrated by Down Syndrome people and directed by painter Jesus Carrete. He joined this experience in the year 2000, and ever since has dedicated to engraving, specifically to colagraphy. The young artist has participated in 33 collective exhibitions both in Cuba and abroad.
An imaginary world, in which he highlights the most valuable things in his life, hangs in the walls turned into art. The sun, the crab's house, Harry Potter, the ship, the sea monster, the turkey, the jackal's house, among other motivations have taken colors to become the work of the deepest of this artist's soul.
"This is one of the most authentic works, -tells Jesús Carrete- the hand of the instructor is far from it, everything has been made by him. Rafi is a very creative young man with an infinite fantasy; he stands out for his intelligence".
In a video tape, we saw Rafi as a baby, a child, a teenager and a youngster, so we found out he was a very much loved person in every stage of his life and have also counted on a wonderful family made up by Saribel, his mother; Tomas, the father and Elizabeth, his sister. Oh, and Evelyn, his cousin. This last note was emphatically made by Rafi.
His bedroom is full fantasy. His family told us that the moment you step in there, you enter the soul of that exceptional human being an artist he is. In that place he makes castles, paints and models clay until turning it into real artistic figures he likes to keep for himself.
"... Rafael is the person who through his art is able to show us the deepness of his thinking, and what he can achieve with effort and dedication, make us believe in all the things he can still do..."
These are words of the catalogue, not of an art specialist, but of a "fairy godmother", as Rafel calls María Antonieta.
Forms and colors in Rafael's pieces are the manifestation of his creation. Perhaps the love his family and friends have given to him all over his life is the reason for this youth to reflect the beauties of a magic but very real world to him.
Source: Guerrillero
---
Related News
---